About Us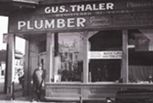 We are 3rd & 4th generation water related contractors in the Bay Area with a dedication to serve your needs, as seen from the photos of the past. Our recent company history dates back since its founding by Ray Forster in 1962, we are now celebrating our 56th anniversary. We are eager to supply the needs of Bay Area customers with the following:
Water treatment needs
Waste & System Sewage
Booster pump systems & various other pump services.
Full range of pumps
Retaining Walls
We are licensed by the State of California. We carry Liability & Worker's Compensation Insurances for our customer's protection. During our firm's history we take pride in training our employees to be honest, on time and fully equipped for the work at hand. Roy Forster (Son of the founder) Has retired and sold to Arolo Company that has been around serving the North Bay since 1953
Our employees are regularly trained at SAFETY & QUALITY CONTROL meetings and factory installation schools. We also endeavor to provide you with the best quality materials for your project and up to date expertise.
We stress CLEANNESS, COURTESY & PROMPT response to your needs.
We have an extensive list of references available & take pride in providing high quality service.
We will do our best to have you as one of our HAPPY CUSTOMERS!We are anxious to be involved in your next project.
After Hours Pump Service Please Call
415-459-4770
AFTER HOUR PUMP SERVICE
PLEASE CALL 415-459-4770 FOR SERVICES/INQUIRIES